PARK CITY, Utah (BRAIN) – The Big Gear Show was a success. It's that simple. Normally I would be tempted to use the phrase "modest success", but that doesn't reflect the general enthusiasm of exhibitors and retailers for what should be called a sort of night out for the bicycle industries, outdoor and paddle sports. . The Big Gear Show, in fact, got high scores on several levels.
The site – an expansive parking lot at Deer Valley Ski Resort – was flanked by a paddling-like pond and a lift system that offered the chance to test out a few bikes. The site's altitude of 6,500 feet tempered the heat of the blazing sun. And more importantly, a light breeze blew steadily throughout the day, moving through the exhibitor and meeting tents, easing concerns about the threat of infection. Free masks were available, hand sanitizer was plentiful, and I guess most of the attendees had been vaccinated.
It was also a coming out night for the NBDA and Heather Mason, the new president of the NBDA. The nonprofit has run a number of seminars – some packed with resellers and others less so. But that's normal. Still, the dealers would regularly gather at the NBDA's outdoor pavilion and do what the dealers do – talk business and swap stories about COVID strategies and, of course, retailer-supplier relationships.
The NBDA, a sponsor of the show, also announced its bicycle retail excellence awards at a ceremony on Wednesday in a spacious tent filled with attendees. Not bad. And PeopleForBikes had a booth and Rod Judd, Director of Membership and Development, served as the NBDA panelist.
Overall, the Big Gear Show got off to a good start as an invite-only event with no track record. And the exhibitors were so happy with the venue, the weather and the better than expected (but never enough) retail attendance with many saying they would come back next year.
Joel Grabenstein of Yakima, vice president of sales, branding and product marketing, put it this way. "The return on investment was well worth it," he said, as staff showcased products targeting the land market. And it was just as important, Grabenstein said, to get his team out of Portland to meet face-to-face with dealers, friends and other exhibitors. Yakima will be back next year, he added.
Larry Pizzi, best known for his long-standing efforts to promote e-bikes as a key industry product for future growth, was all smiles at the three-day event. As Alta Cycle's commercial director, Pizzi met friends and dealers he hadn't seen since COVID locked the country in over a year ago. Pizzi has signed a few orders, learned about retail issues, and sat on an NBDA panel to discuss the current state of the industry.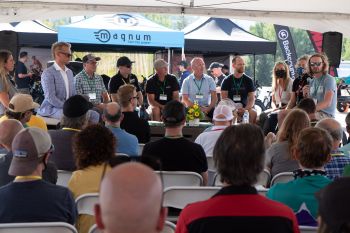 But more importantly for Alta, Pizzi said, outdoor retailers were traveling to assess the potential to add bikes to their sales area. Retail cross-traffic may well be one of the show's key attributes for next year.
Others, like George Simone, National Sales Director for G-Form, and Eric Stobin, North American Sales Director for Wahoo, have said much the same.
The outdoor / bike swap has also gone the other way: bike retailers like John Robinson of Columbus, Ohio's Johnny Velo store have spent time in the outdoor space checking out Jet Boil stoves and d 'other items that it can store for its cycle touring customers.
Later, I wandered around an array of paddling businesses flanking the pond in search of Bill Kueper, vice president of We.no.nah Canoe, Inc., at the suggestion of Sutton Bacon, the founder of the show. It was a two-part mission: to check out a new part I needed for a kayak I bought years ago from We.no.nah and get a feel for how the sports industry paddle was carried.
The big gear show:
138 exhibiting companies contributed 206 individual brands.
421 invited resellers.
71 people in the media.
Kueper, an avid cyclist as well as an experienced waterman, was pleased with the dealership participation. But equally important, he said, was the chance to meet competitors and resume discussions on e-commerce strategies, supply chain issues and how to help improve retail. paddle sports. COVID had put these discussions on hold. "This show saved me at least half a dozen flights," Kueper said.
So here is my take out for what it's worth. I will readily admit to being a salon addict. The demise of Interbike (and there are a dozen reasons why it imploded) led to a new industry divide, hampered opportunities for new businesses, and exacerbated misunderstandings between suppliers and dealers. . Let's be honest, it's easy to impose onerous freight charges, for example, if executives don't have to make eye contact with their dealers every now and then.
The Big Gear Show, with its invitation-only format, offers vendors and retailers in attendance a chance to debate issues one-on-one in a more cooperative atmosphere. But no one should expect Trek or Specialized to sign up. Still, at least Giant had a representative there to meet with the show's organizers.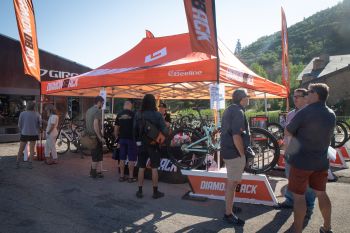 As the retail market undergoes a radical overhaul (think COVID, supply chain disruption, consolidation, removal of margins, etc.), the idea that full-fledged retailers air tossing tires into a bicycle supplier's tent is good news. The Big Gear Show could open up new opportunities for small and medium-sized vendors, increasingly marginalized by Trek and specializing in the traditional IBD market, to find new business opportunities, especially for companies like Go-Cycle. , Magnum and others.
The loss of Interbike also hit new entrepreneurs hard. And it was reported by Tucker Richardson, senior product manager at Galeo, a company I'm sure resellers have never heard of. It is an avionics company in Fargo, North Dakota, which has some 150 employees and manufactures products for the aviation industry. This is not a Kickstarter business.
Galeo has developed what is essentially a motion detector with GPS capabilities that can be attached to the bolt holes of a bicycle's water bottles. As Richardson pointed out, several million bikes are stolen every year and this device could make a difference. But it's hard to gain traction, much less attention, in an industry that doesn't have a trade show. CABDA has three events planned, but that's an expensive proposition when it comes to showcasing new products from a company that no one has heard of. And consumer events pose even more challenges.
The Big Gear Show will never replace Interbike or Outdoor Retailer, although OR is struggling in Denver with a number of large companies withdrawing from the show next week. OU should return to Salt Lake. But BGS offers a compelling multisport format, held outdoors, in a pleasant location, at a reasonable time of year, that exhibitors can afford and retailers can visit. So, I wish them the best for the future.
Related: Daily cover of The Big Gear Show by Outside Business Journal.